Is your dog miserable with itchy skin? Remember that "allergy season" can occur at different times of the year, depending on the dog. However, all dogs deal with this problem. While there are many different medications to help deal with allergy symptoms, many of us prefer to go a more natural route first to make sure we've tried all of the safest options. We would like to share some of the most effective remedies for your dog that are already in your home with natural ways. 
1. Ignore plastic food dishes
Dogs that are sensitive to these plastic food bowl. Because plastic tends to develop tiny cracks that can harbor bacteria, which cause reactions in sensitive dogs and cats.Replace plastic with stainless, glass or ceramic food bowls and keep them meticulously clean, including washing them in the dishwasher at least weekly.
2. Wholesome Diet 
As we know,  the more natural your dog's diet, the better their bodies are able to fight off and heal from allergies and external stress. Recently, grain-free diets are highly recommended for dogs with any type of allergy, but if this isn't possible, consider feeding organic, whole grains. The better your dog's nutrition, the better their overall health and their ability to fight off allergens.
3.  Bathing and Grooming 
In fact, if your dog suffers from environmental allergies, frequent bathing and grooming is going to offer much needed comfort. Using some quality shampoos will help your dog's skin feel softer and will relieve the itching they feel. You should make a plan to bathe for them. Besides, brushing and combing will also help remove dead skin and coat, promoting new growth and removing allergens on top of the skin and fur. 
4. Apple cider vinegar 
Actually, apple cider vinegar can be used as a rinse for your dog's paws that will take off some of the pollen and allergens that accumulate.This is an easy way to relieve your dog's itchy skin and paws. Mix a 50/50 solution of apple cider vinegar and water to put on your dog's skin, if your dog has hot spots or itchy skin. You can soak your dog's paws in the 50/50 solution for up to 5 minutes fr his paws. 
5.  Omega-3 Fatty Acids 
Omega-3 is an extremely beneficial to dogs with allergies. This way helps dog's skin and coat become healthy and reduce shedding in dog. Also, it works as anti-inflammatories and greatly reduce the intensity of allergens. Plus it can support quickly a soft silky coat and maintain the skin's normal moisture content.
6. Oatmeal
This remedy takes a little longer, but the benefits are worth it. A mixture of oatmeal and water can be rubbed onto the dog's skin to help relieve dryness and soothe itchiness. The oatmeal should be left on the skin for approximately 10 minutes and then rinsed off with warm water. This will reduce itching, and the bath itself will be helpful in removing many of the allergens that can be present on your dog's skin or trapped in their coat. Kindly note, don't use oat if your dog is itching due to a yeast infection. 
7. Yogurt 
Please make sure that it is plain yogurt with no sugar or additives. Plain and probiotic yogurt keeps good bacteria in your dog's tummy. Moreover, this way can stop skin infections and yeast infections from happening. You can also mix it into their food if you would like.  
8. Coconut Oil  
If you have coconut oil, your furry friend will benefit from it. This ways is knowns as an ingredient that helps boost your dog's immune system and moisturize and soothe your dog's skin. You are able to apply coconut oil directly to your dog's skin. Besides, it can like support digestion problems and boost the immune system 
9. Olive Oil
 Olive oil isn't only great to use when cooking, but it is loaded with antioxidants and vitamins E & K that can replenish your dog's fur coat. You can add this ingredient in dog's food.  1 tablespoon 2-3 time a week in your dog's food can help solve their itching, while helping their fur grow thick and shiny. 
10. Aloe Leaf
 It is really good for dog with allergy. However, make sure that you are not using the whole leaf. Because the leaf contains saponins, the yellow or orange substance found in the rind, which is a laxative that can make your dog sick. Use only the gel, please. Actually, aloe has antibacterial, antifungal, and anti-inflammatory properties that make it perfect for treating burns, itches, and hot spots when applied to the skin. If your dog is itching, apply the gel to the affected areas. The cooling effect often reduces the discomfort immediately. It should be applied twice a day. You can buy fresh aloe leaves at many grocery stores – they'll keep for three days in the refrigerator.
11. Green Tea 
In fact, polyphenols in green tea have an anti-inflammatory and antihistamine effect that can help soothe your dog's inflamed itchy skin. You can also make a simple green tea rinse to alleviate your dog's itching.  
12. Cabbage Leaf 
This is an old time remedy to help remove heat and inflammation. Pound a cabbage leaf until the surface is broken and the juice oozes out. Hold the leaf on the inflamed area. The leaf will get warm as it draws the inflammation out. Remove after several minutes.  
13. 
Thyme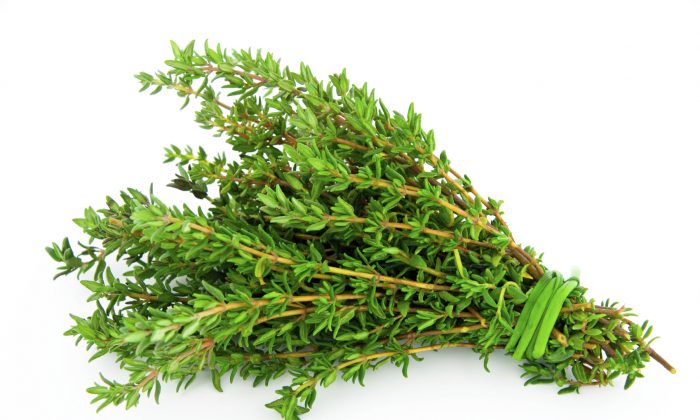 Thyme contains flavanoids, which have antioxidant, anti-inflammatory properties. Therefore, it has powerful antiseptic and antifungal properties. It becomes a good solution for dog with allergy, especially  infection between your dog's toes. Make sure it gets deep between the toes.
14. Quercetin 
Quercetin is a flavanoid (a compound in plants that give fruits and veggies their colorful pigments). One improtant thing is it has antioxidant, antihistamine, and anti-inflammatory properties. Plus, it helps fight cellular activity associated with inflammation, which reduces itching.  
15. Chickweed Gel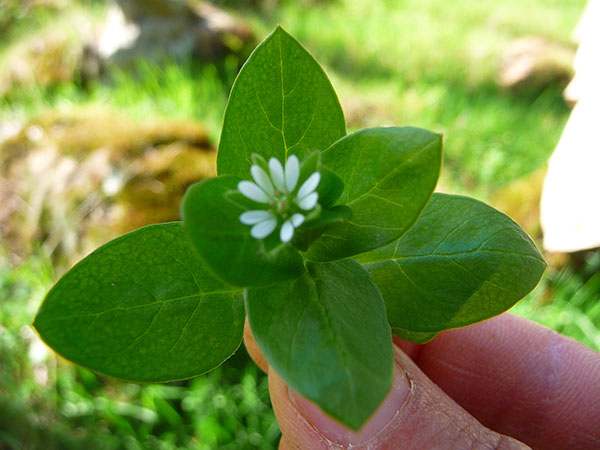 Chickweed has anti-inflammatory properties that make it good for treating itches and hot spots. Chickweed gel can be applied topically and has a pleasant, cooling effect that makes it good for use in hot weather. It can also be used to treat minor bug bites, rashes, or eczema.